Experience
Oncall Communications was formed in 2008 by Angela Hallberg. Angela has over 15 years experience in sales and marketing, has held senior management positions in the tourism and incentive marketing fields, and has completed a Diploma in Integrated Marketing Communications. She currently has a small portfolio of clients with whom she has developed long term partnerships. These businesses are primarily in the automotive, construction and marine sectors. She has also assisted a variety of businesses with one-off copywriting, branding and web based projects and can assist you in the technical writing field.
Profile - Angela Hallberg
Born in England, Angela has been in New Zealand since age 12. She is married to Evan, who is a Director and Shareholder of Econobuilt Ltd, a construction company based in Takanini. They have two children, Dylan (13) and Nicola (12) and divide their time between home in semi-rural Ramarama and the beach life in Pauanui.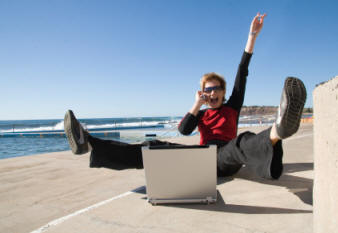 Angela's passion for marketing was inspired at Carlson Marketing Group, a multi-national incentive marketing agency. In her five years there, she formed close bonds with clients such as Shell New Zealand, Mazda, Sovereign Assurance and NZI Life. Developing a working knowledge of print and production methods, she also arranged photo shoots, ran conferencesand administered database marketing systems. Coached by General Manager, Chris Bray, she became experienced at writing brochure copy and newsletters, designing teaser campaigns and writing motivational performance statements. Her natural flair for language led to proposal development - working with clients to understand their goals and craft incentive programmes to meet their objectives.

As National Sales Manager at Budget Rent a Car, Angela was part of a team that literally turned the company's profits around. Under the management of Neil Mackay, she recruited and trained a fantastic sales team, selling solutions not products, then as a company they backed them up with bold marketing and a customer focused network.

Working for Budget on contract from 1998 and free from the shackles that come with staff, clients and the Head Office environment, she was able to tackle projects that had been in the too hard basket for too long. The creation of a Procedures Manual for frontline staff was one of her most significant achievements during this time. This document was pivotal for the company, as without it franchise agreements were unenforceable. It was also a prerequisite for the company's sale some years later to Cendant Corporation.

Outside of the work field Angela is Chairperson of the Board of Trustees at Ramamara School, is a keen runner, and enjoys boating and fishing.

Starting Oncall Communications in 2008, she is now able to share her skills with small and medium sized businesses. Helping them achieve their business goals for some entails the development of a full marketing plan, for others a little help with copywriting or proofreading is all that is needed.
Current Key Clients
Oncall Communications' current key clients include:
| | | |
| --- | --- | --- |
| | | Econobuilt is a design build construction company working in both the commercial and rural/lifestyle market segments. Our role is primarily to prepare presentation and proposal documents, using power point and publisher, along with newsletters, promotional flyers and advertisements as required. |
| | | Working with the rural division manager at Econobuilt, we identified a potential niche market in the equestrian industry. Together we came up with a brand name, constructed a marketing plan and engaged a graphic designer to develop a logo. Brochures, website, branded clothing, etc, were launched at the Horse of Year Show in 2011, and a PR and advertising campaign followed the appointment of a dedicated equestrian salesperson. |
| | | In 2012 Econobuilt sold the Harrison Lane brand after deciding to focus on the commercial division of the company. We are currently rebranding this commercial division as Indesco, with a progressive rollout planned for the beginning of 2013. This includes the development of a new website as well as a complete re-imaging of the company's stationery, site signage and all proposal documents. |
| | | Nautical Contracting are specialists in the design, manufacture and installation of teak decks for super yachts around the globe. Oncall Communications worked with them for three years, developing, implementing and reviewing their marketing plan which is primarily PR and networking/direct sales based. |
| | | For Nautical Contracting we also developed a global marketing plan for the revolutionary new teak decking alternative, GreenTeak, working in conjunction with the Italian company that designed the product. |
| | | Shockwatch NZ Ltd is a distributor of products that prevent damage to goods in transit and storage, as well as reducing accidents to warehouse staff. They have a relatively technical and diverse product range and required a new website to enable them to effectively sell to New Zealand customers and encourage new distributors. This website was completed and launched in October 2012 and is continually being optimised. |
| | | Omega Rental Cars is a successful player in the very competitive, price-sensitive rental car market. I have recently taken on the role of Marketing Manager, on contract, working with them to develop new business streams and maximise returns from existing markets. We are currently implementing a strategic marketing plan and a tactical promotional timeline for 2013. |
| | | Epsom Automotive is an automotive repair workshop in Epsom, Auckland. We have worked with them for five years, handling all marketing requirements and maximising their marketing budget. Database marketing and local PR/networking has been used to good effect to build a loyal client base. |

Call to Discuss Your Requirements

Angela Hallberg
Marketing Communications Specialist
T 09 236 6820
M 027 281 7164
E angela@oncallcommunications.co.nz